Fairfield Elementary Works to Foster Strong Student-Teacher Relationships
In 2017, Fairfield Elementary School, a neighborhood school on Chicago's Southwest Side, realized they needed to address how students felt about their school.
INSIGHTS
In 2017, Fairfield Elementary School (Fairfield), a neighborhood school on Chicago's Southwest Side, realized they needed to address how students felt about their school. Year after year, 5Essentials Survey results showed Fairfield students didn't feel supported.
The school was categorized as "very weak" across Supportive Environment measures, including Academic Personalism and Student-Teacher Trust. On a 1-99 scale, Fairfield scored an 18 for Academic Personalism, a score well below the average for the Chicago Public Schools (CPS) district as a whole, which earned a 67 on the same measure. Academic Personalism is the capacity of teachers to connect with students in the classroom and support them in achieving academic goals. For Student-Teacher Trust, the school scored a 31—a 14-point drop from the previous year.
In an effort to improve student and teacher relationships, Fairfield's principal, Claudia Lopez, partnered with UChicago Impact through The Chicago Public Education Fund's Summer Design Program (SDP). SDP is a professional development opportunity that provides educators with the resources and partnerships designed to foster positive change in their schools. Schools that participated in SDP's 2017 Culture and Climate Track received embedded leadership coaching from UChicago Impact's team of 5Essentials School Leadership Coaches. Coaches support leadership teams through a data-driven approach to creating sustainable school improvement.
STRATEGIES
At the start of the SDP program, Fairfield school leaders worked with their 5Essentials Leadership Coach on analyzing 5Essentials Survey results to dig deeper into relationships between students and teachers. They saw that almost 20 percent of students surveyed felt they weren't treated with respect by their teachers. That same year, 72 percent of teachers felt their students were disrespectful.
In order to gain a better understanding of what was happening inside the classroom between students and teachers, Lopez and her team reviewed misconduct reports from the previous year. The reports revealed a trend of adult responses escalating incidents of challenging student behavior to punitive disciplinary action.
After analyzing the data, Lopez and her 5Essentials School Leadership Coach created an improvement plan focused on improving student and teacher relationships by restructuring discipline trainings and protocols.
As part of that plan, the same disciplinary data were shared with teachers who were subsequently trained on using relational discipline methods rather than punitive ones. The training emphasized methods such as listening to students and working to make them feel heard, considering each student's' individual context when determining appropriate discipline, and continually cultivating a classroom culture of respect.
Both leadership and teachers reviewed case studies based on misconduct reports and discussed how, in similar situations, teachers could hold students accountable for their behavior while still maintaining positive relationships with them.
In an effort to reinforce the relational discipline trainings, Lopez's 5Essentials School Leadership Coach helped her establish frequent informal teacher observations and provide real-time feedback through a streamlined coaching form.
In order to improve Academic Personalism and students' perception of the academic standards held by their teachers, Lopez began regularly meeting with teachers to analyze student achievement data and progress. Then, they set growth goals for individual students and communicated those goals to students.
RESULTS
Fairfield's score for the Supportive Environment Essential improved by 8 points in 2017-2018 while the district's average score on the same Essential declined by 3 points. Within this Essential, the school's two areas of focus, Academic Personalism and Student-Teacher Trust, both improved. Specifically, results for Academic Personalism improved by 14 points while the district's average score remained unchanged. They also saw Student-Teacher Trust improve by 2 points whereas the district average score on the same Measure declined by 3 points.
These improvements reflected important changes in the school. For example, at the end of the 2016-2017 school year, Fairfield issued 98 out-of-school suspensions, one of the highest out-of-school suspension rates in its network of over 30 Chicago Public Schools. Since working with UChicago Impact, Fairfield's suspension rate has decreased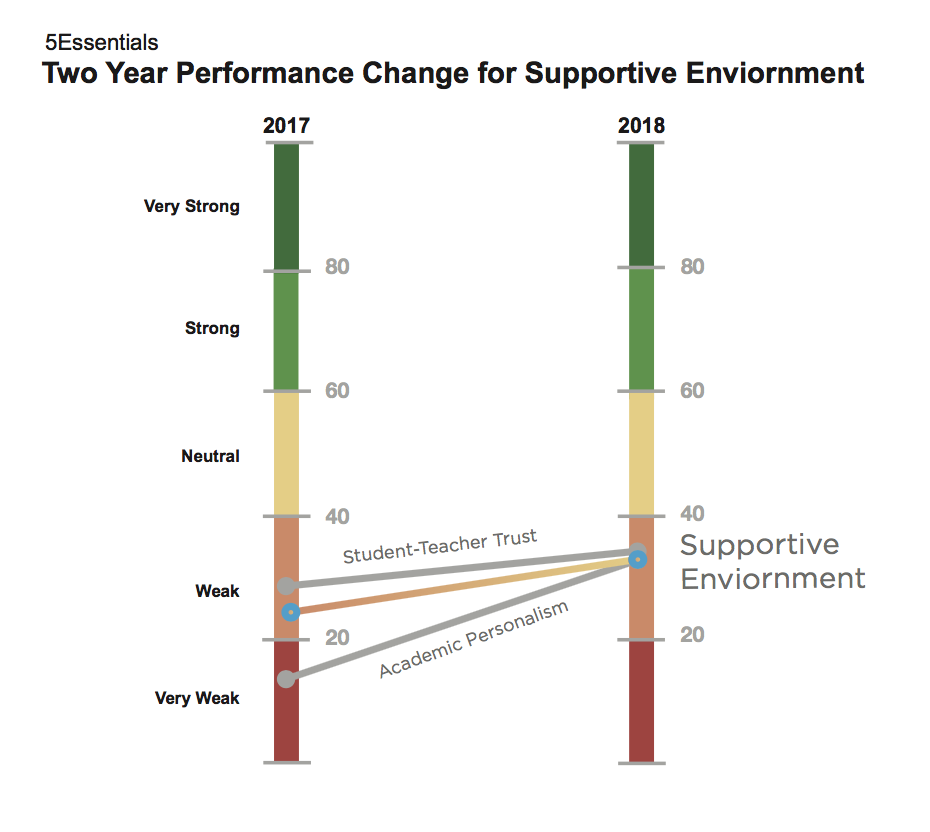 significantly. During the 2017-2018 school year, they issued 32 out-of-school suspensions. Principal Lopez believes that the school's work with UChicago Impact to build strong relationships between teachers and students led to the school's significant decrease in suspensions.
In the coming school year, UChicago Impact will continue partnering with Fairfield shifting their focus to improving Collaborative Practices through strengthening teacher leadership and data analysis.