McPherson Works to Improve Student-Teacher Relationships
In 2015, the 5Essentials data for James B McPherson Elementary School (McPherson) on Chicago's North Side revealed a hard truth—trust between students and teachers was in need of rebuilding.
INSIGHTS
In 2015, the 5Essentials data for James B McPherson Elementary School (McPherson) on Chicago's North Side revealed a hard truth—trust between students and teachers was in need of rebuilding.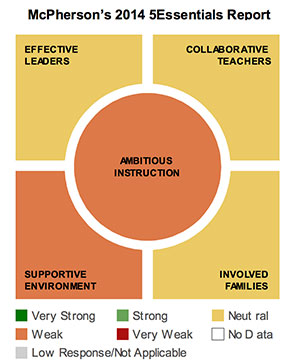 The 5Essentials survey is a school culture and climate assessment that provides insight into a school's strengths and areas of improvement on the five key factors research shows are predictive of school success: Effective Leaders, Collaborative Teachers, Involved Families, Supportive Environment, and Ambitious Instruction. Schools strong on at least three of these five "essential supports" were 10 times more likely to show substantial gains in student learning than schools weak on three or more essential supports.
During the 2014-2015 school year, McPherson was "weak" in the area of Student-Teacher Trust, a component of the Supportive Environment essential. They scored a 27 on a 1-99 scale—23 points below the CPS average. These results were eye-opening for the school's team.
"We thought everything was a pretty picture," said Marianne Turk, the school's International Baccalaureate Middle Years Program coordinator. "We didn't realize there were issues between students and their teachers."
The school began working with UChicago Impact to create an improvement plan that was focused on growing trust between teachers and students.
STRATEGIES
Reaching out to and building relationships with students
After data analysis revealed there were challenges with trust in the classroom, the McPherson team realized they needed a better understanding of what was actually occurring between teachers and students. In partnership with UChicago Impact and the school's student council, the school administered a second survey to students. This time the survey was open-ended and students could participate anonymously. Students reported feeling singled out and disrespected at times. Multiple students felt there was a "power struggle" in the classroom.
Initially, it was difficult for Turk and her team to talk with teachers about their relationships with students. Some teachers were defensive and struggled to process the students' responses. Many were also hesitant and skeptical when it came to strategies designed to repair "trust." UChicago Impact's 5Essentials team worked to help teachers see students' responses as areas of opportunity rather than personal attacks.
McPherson also worked with UChicago Impact on creating professional development sessions for teachers that would be conducted at grade-level meetings. They provided teachers with different strategies that could be used when interacting with students. Some of these strategies included training on restorative conversations with students, de-escalation techniques and techniques to avoid power struggles, as well as strategies for more private, non-invasive redirections.
In order to make clear social and academic expectations for students, the school created "BADGERS Expectations." The BADGERS acrostic list emphasizes open-mindedness, acceptance, being grateful, and classroom engagement.
"I've had my students create their own interpretations of BADGERS expectations and what each one means," said Jacqueline Edwards, a third-grade teacher at McPherson. "My students and I both use the language. For example, my students will say to the class 'stay engaged' when it starts to get too loud."
Edwards also created a BADGERS Champ of the Day. She asks students to nominate a peer who they think has fulfilled the BADGERS expectations.
Most of McPherson's teachers responded positively to the trust exercises and have joined the school in the effort to repair classroom trust. "Teachers have noticed the manner in which they talk to students," said Turk. "They are more mindful and more purposeful in their conduct."
RESULTS
While repairing trust between students and teachers is still a work in progress, from 2016 to 2017, the school's 5Essentials results for Student-Teacher Trust improved 12 points—outpacing the improvement of one point for Chicago Public Schools overall.
In 2017, McPherson's results for the Supportive Environment essential improved by 12 points, outpacing the district's overall average growth in the same essential by 11 points.