Strengthening Trust Among Adults at Pasteur Elementary
From 2010 to 2015, Louis Pasteur Elementary School (Pasteur), on Chicago's southwest side, had gone through three different principals.
INSIGHTS
From 2010 to 2015, Louis Pasteur Elementary School (Pasteur), on Chicago's southwest side, had gone through three different principals. The frequent turnover left teachers and staff feeling uneasy and the school's 5Essentials survey results reflected diminishing trust between the adults in the school.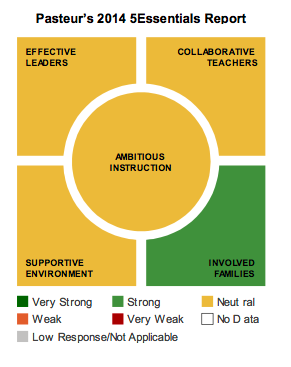 The 5Essentials survey is a school culture and climate assessment that provides insight into a school's strengths and areas of improvement on the five key factors research shows are predictive of school success: Effective Leaders, Collaborative Teachers, Involved Families, Supportive Environment, and Ambitious Instruction. Schools strong on at least three of these five "essential supports" were 10 times more likely to show substantial gains in student learning than schools weak on three or more essential supports.
In 2014, Pasteur's 5Essentials results on Teacher-Teacher Trust, a component of the Collaborative Teachers essential, were low—the school earned a score of 35 on a 1-99 scale. A year later, survey results improved but still trailed behind the average rate for Chicago Public Schools (CPS) by 18 points. Also, Pasteur's results in the area of Teacher-Principal Trust were still below average for schools with similar characteristics and student body profiles as well as CPS overall.
Pasteur's school administration team worked with UChicago Impact on utilizing their 5Essentials data to make informed decisions on how to rebuild school-wide trust.
STRATEGIES
In order to improve communication and transparency between administrators and teachers, the school leveraged their Instructional Leadership Team (ILT), a group of school leaders, counselors, and staff charged with implementing and monitoring the school's improvement plan, to assist in communicating with teachers.
Previously, the ILT worked in a silo and school improvement decisions were made with little to no teacher input. The school worked to build the ILT's capacity and recruited teacher representatives from each grade level. With a larger ILT that adequately represented the entire school community, the administration had a more effective and efficient way of communicating with teachers.
The administration also adopted an open forum, called "the learning hub." They used Google Drive and a shared calendar as a place for teachers and administrators to share school news, updates, school event information, and teachers' success stories. The learning hub became the school's transparent and central method for communicating with all faculty and staff.
The school began involving teachers in the process of analyzing 5Essentials data on Teacher-Teacher Trust. In partnership with UChicago Impact, the school held professional development sessions where teachers received guiding questions for analyzing 5Essentials data. The goal was to provide teachers with a better understanding of the data and survey responses specific to Teacher-Teacher Trust. This allowed the administration to start a meaningful conversation with teachers about root causes and solutions for repairing working relationships.
In response to the growing tension among teachers, the school formed a culture and climate team with a teacher representative from each grade. Together they worked to determine a list of "non-negotiable" school-wide expectations for professionalism. They call this list the "Pasteur Way" and it encourages teachers and the administration to take ownership of their work and relationships with colleagues.
RESULTS
After two years of using the 5Essentials framework, data, and support from UChicago Impact to implement an improvement plan, Pasteur's survey results on Teacher-Teacher Trust improved by 13 points, compared to a one point decrease across the district overall.
In the area of Collective Responsibility, a component of the Collaborative Teachers essential, Pasteur improved 13 points in just one year while the district's overall performance decreased by one point. This took the school from being neutral to strong in the measure.