UChicago Impact Hosts the First Session of the 5Essentials Leadership Collaborative Series
The Leadership Collaborative Series serves as a network for school improvement that helps schools tackle a common problem of practice through an improvement process.
As part of this year's The Chicago Public Education Fund's Summer Design Program, UChicago Impact welcomed a cohort of 25 Chicago schools who will be receiving embedded leadership coaching from UChicago Impact's team of 5Essentials School Leadership Coaches. During the 2017-2018 academic year, school leaders will be working individually with their 5Essentials Leadership Coach on building leadership capacity and developing an improvement plan around the 5Essentials Framework. However, because we know that some of the most impactful ideas for improving schools and student outcomes are generated when colleagues work with each other, UChicago Impact hosted the first of three sessions of the Leadership Collaborative Series for cohort school leaders and their colleagues.
The Leadership Collaborative Series serves as a network for school improvement that helps schools tackle a common problem of practice through an improvement process. The series is designed to engage school staff in collective learning around leadership and targeted areas of the 5Essentials Framework, as well as combine knowledge and resources to create the conditions for school improvement.
This first session focused on the Collaborative Teachers Essential and the importance of working as interdependent teams in the effort to improve schools. See some highlights from the session below.
Collaborative Teachers Essential
Within the 5Essentials framework, the Collaborative Teachers Essential emphasizes the importance of all teachers working together to promote professional growth. A school considered strong in Collaborative Teachers fosters teachers who are active partners in school improvement, are committed to the school, and are focused on professional development.
Other 5Essentials Measures that reinforce collaborative practices among teachers are:
Reflective Dialogue (a Supplemental Measure): Teachers frequently talk with each other about curriculum, instruction, and student learning
Teacher Influence (Component of Effective Leaders): Teachers have influence in a broad range of decisions regarding policies and practices
Identifying and Sharing Best Practices of Strong Teacher Teams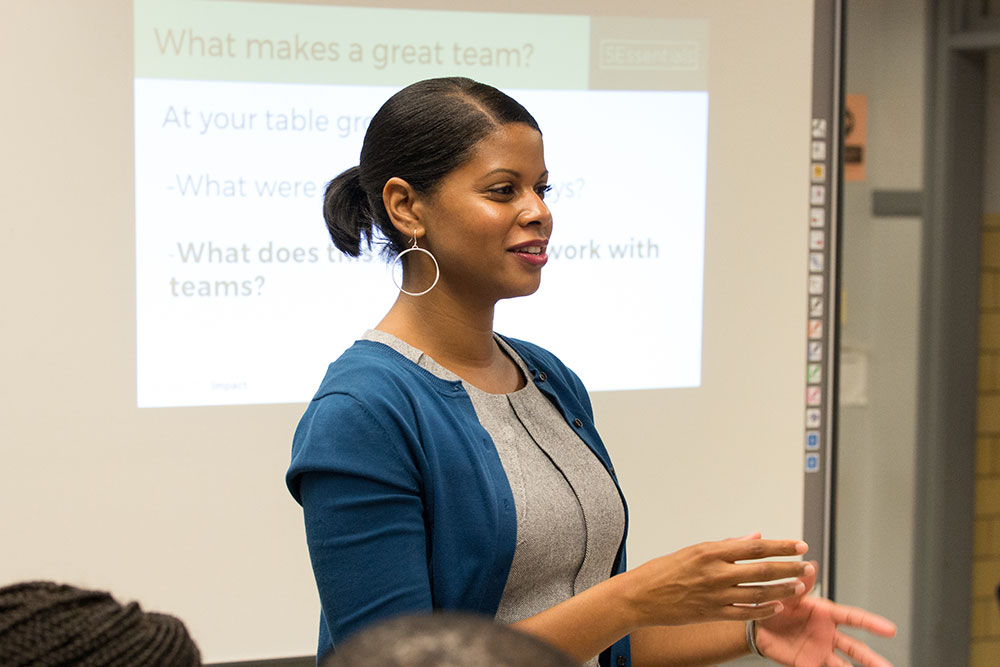 One of the essential ways to encourage collaboration among teachers is to establish strong teacher teams. Throughout the session, 5Essentials School Leadership Coaches utilized the "Art of Coaching Teams" and "Learning to Improve" to help teams think about the aspects of effective teams and how to support their work in the context of an improvement cycle. Participants engaged in conversations about what makes a teacher team "strong" and shared experiences they've had with great teams and examined what made those teams effective. Participants also discussed findings and opinions from literature on proven methods for coaching and facilitating effective teams.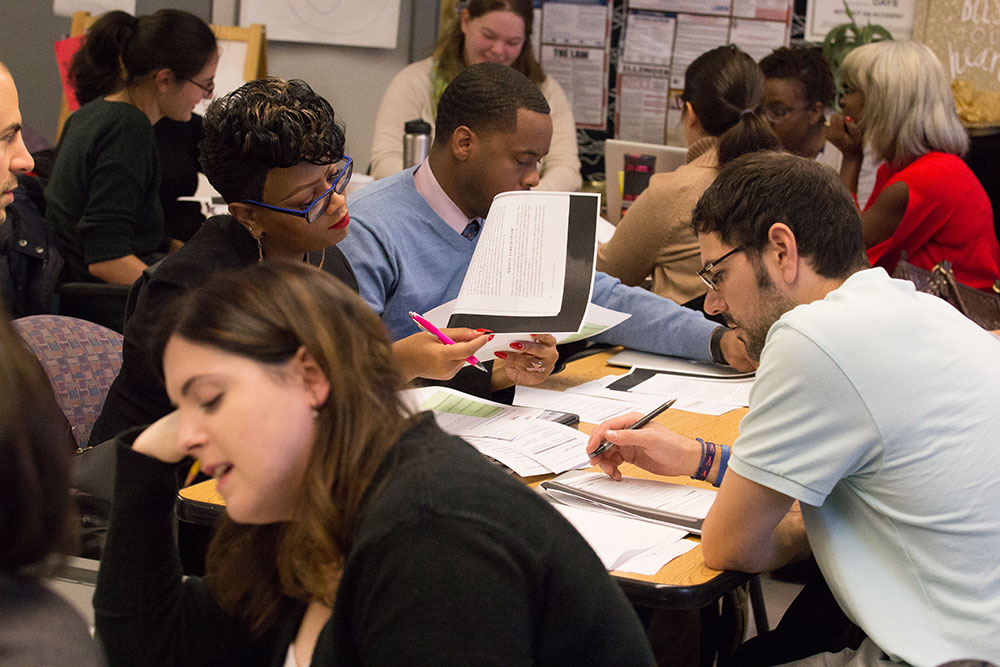 Discussing Successes and Barriers to Cultivating Teacher Teams
During this section, 5Essentials Leadership Coaches supported participants in analyzing their schools' existing teams by discussing the work and output of each team. Participants used the Aguilar's rubric from the "Art of Coaching Teams" to do the analysis.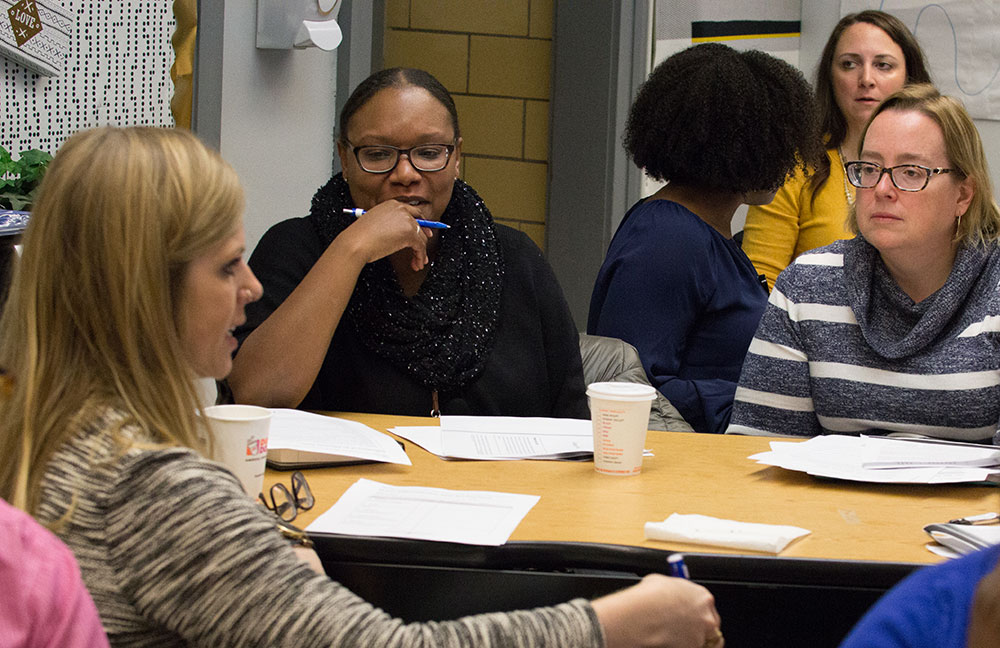 Creating an Action Plan for Improving Teacher Teams
Based on the resources reviewed for fostering effective teams and their analysis of existing school teams, participants worked with their colleagues and 5Essentials Leadership Coach to map out ways to improve the effectiveness of, and set goals for, their schools' teacher teams.
"Tuesday morning, I sent out something to the staff regarding grade level teams and purpose. So at the [Leadership Collaborative Session] I almost fell over in how timely the information was. We gave the Team-Effectiveness Self-Assessment to our Instructional Leadership Team and used it in whole school PD, along with the 'Art of Coaching Teams' excerpt to better think about team practices." —Clariza Dominicci, Principal, Marvin Camras Children's Engineering Elementary School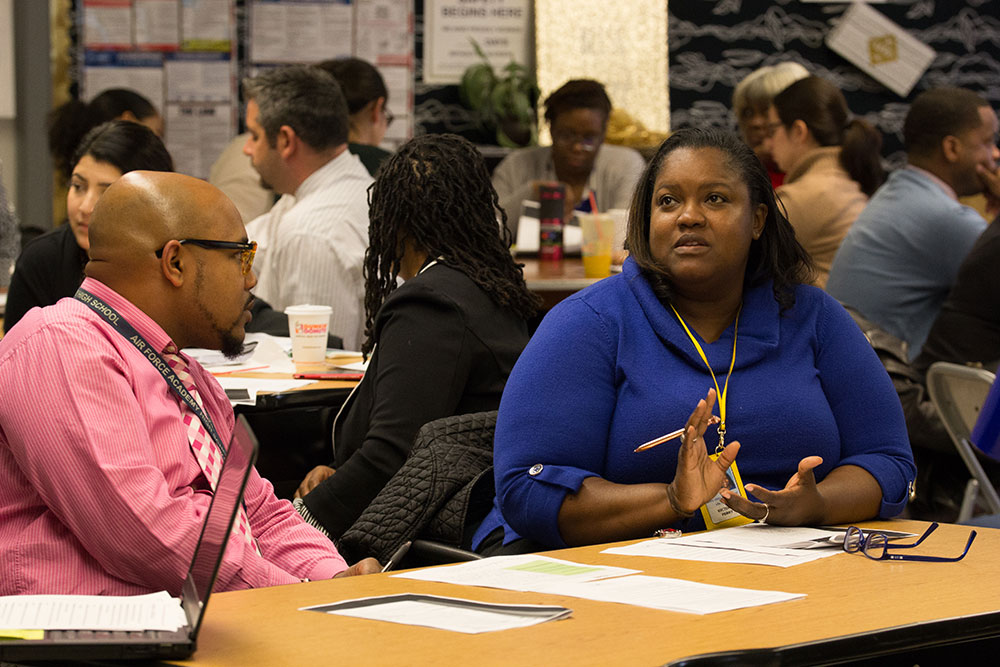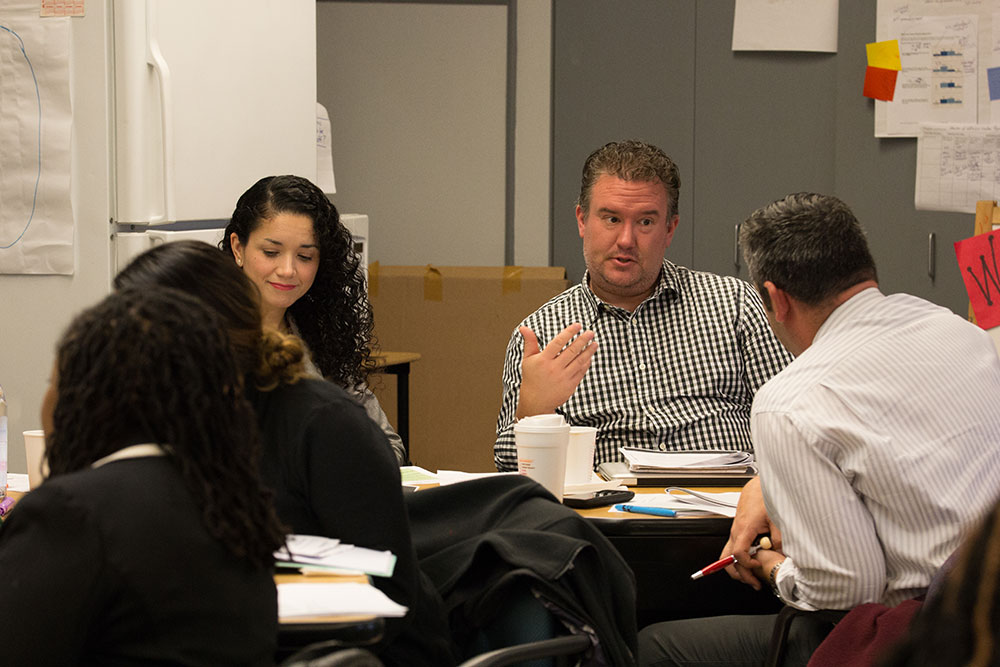 School Leader Highlight:
Victoria Perry
Assistant Principal, Oscar Depriest Elementary School
Why do you feel it's important to work on and improve your school's culture and climate?
"It needs to be a safe, comfortable space for not only our students but our staff in order for it to be an effective space or a place that people want to be. For our students, if it's not a place that they want to come, then they're not invested in showing up every day. But by the same token, getting teachers to that comfortable place where they want to make it exciting. We always want to grow. Growing in our practice and making our school better."

Tell me a bit about your experience working with your 5Essentials Leadership Coach. 
"[Our coach] has been helping us focus our meetings and making them more strategic. He attends the meetings and then he provides constructive feedback in order to increase our effectiveness of working with that team and making the meeting more meaningful. You may think that what you're doing is working but it's always great to have that outside person who can just give you that extra insight that you may not notice once you're in the thick of it." 
What do you feel you took away from this morning's session? 
"Building better teams. I was really taken by the three dimensions. Because a lot of times the people on the team don't know what the end product is supposed to be. The person who put the agenda together may know but then being intentional in letting the rest of the team know and getting that complete understanding of what the end product should look like for the rest of the team...what is it that we want to learn and have and why?
I think it's important to continue to learn. We always want to be better, we don't just want to be compliance driven—we want to be 'client driven,' which are our students. Making sure that we're focused on what's best for our students and how we can get them to the best possible place and whatever we can do in the background to lead them to that point is key for us, it's essential."